Everything you see listed here - plus so much more! Details Below
Use Coupon Code 20OFFUSM for $20 OFF the First Month! (then $67 monthly after that)
Doug Halfpenny

Hugh Hitchcock has perfected his role in my life as software genius, sage counselor and friend.
David C. Ballard

Hugh is one-of-a-kind and a true example of what this industry needs more of when it comes to building trust and long-term relationships.
Cliff Pasta

I can't say enough about the great value I'm getting as a member of Hugh's Membership. I've been a member for over 2 years now, and it just keeps getting better. His software plus the weekly live calls and personal support helps me stay on track with my goals. You'd be hard pressed to find any better membership to call your home. Two thumbs up!
Peter Williams,

GCube Media

If you want to make money online then the best and most comprehensive tools that you will be able to find anywhere is the Web Dimensions arsenal of apps from the Master Mind of Hugh and Web Dimensions. He provides the Swiss army knife of essential programs to vitalize your blogs and videos, and take your social media to the next level!
Grant Crilly

Hugh's products are not just functional, but continue to compliment each other in a well thought-out system. Even better, the 'always there' support Hugh offers has been phenomenal. Thank you Hugh!
Rick Burdo,

Burdo's Marketing

I have been a member of the Hugh's Membership for some time now. The benefits received out-value the price tenfold. Here's what's great about it: 1 -  I'm grandfathered into all of the existing software. 2 - I have access to any new released software. 3 - All this for one low monthly membership fee. This is a no brainer - I highly recommend this to anyone!
Stephen Breathour

I've 20 years of experience in IT and the internet, subscribe to, have trialed or know about popular programs and services ranging from $5/mon to $12k/year. I joined Hugh's membership in 2013.... If you are limited to one subscription program for internet tools, this is the one to join.
Join Our Vibrant Community! Details Below
Use Coupon Code 20OFFUSM for $20 OFF the First Month! (then $67 monthly after that)
What's This Membership About?
So here's what this membership all about, in case you aren't familiar with Hugh and Web Dimensions, Inc.
In 2012 Hugh launched his first public product release through Web Dimensions, Inc., Instant Content Curator Pro. It was a huge success, in the top 20 launches of the Warrior Forum. That success was shortly followed by Viral Image Curator Pro and then Viral Video Curator Pro which were both unbridled successes.
In the years ensuing, Hugh has been continuing to learn, explore and share new ways to get your marketing message out there while developing new, powerful systems for marketing, such as ICC Express, ICC Keyworkz and Silo Factory and now a whole new line of cloud-based video and social media marketing tools - many of which have not been launched publicly and are only available to members who join this service.
Our weekly calls consist of an hour or more where Hugh peels back the layers of the onion of Marketing Technology and strategies - he shows off the strategies he's learned to implement and how to automate those processes - including ways to get better rankings in Google, more effective video marketing and automated but effective social media marketing.

In addition to curation Hugh now maintains awesome weapons for social marketing and video marketing, like TapVIDz, Twitworkz, Webinar Alpha and others...
If you haven't checked out Twitworkz software for your business, then you're really missing out. Twitworkz gets you building followings on auto-pilot for more than one business (in fact I have lots of responsive followings for different twitter accounts now and I'm running them for my clients too) and it's a great tool for building your email list - on auto-pilot. You set up the auto-following and additionally it has an auto-tweet module that lets you provide a continual stream of varied content to your followers on auto-pilot. Twitworkz boasts tons of happy users.
"I built Twitworkz for me because I knew what I wanted for Twitter -- and after paying people to run software on my accounts for years, I now have my own software to easily do it, and you can too just by joining with me today."
If you do video marketing - we have some amazing powerful new tools that you'll want to see, including TapVIDz UpLINK, TapVIDz ReLOADz and TapVIDz CREATE - all of which integrate with Web Dimensions' powerful new video, social and blog syndication framework we call TheWorkz.
TapVIDz is a brand new, HUGE video system based on everything we've learned in the past 3 years building out and researching video creation and distribution tools. This new system is pretty insane, you have to see it to believe it.
TapVIDz has a lot of moving parts, including a brand new logical video creator, a one-click syndication engine, and an automated re-posting system. TapVIDz CREATE lets you remix your old videos or create new videos from our gigs and gigs of stock free content.
I'm sure you have a lot of videos that you've already uploaded to youtube - with TapVIDz, you can post them on youtube again and again just by easily remixing using TapVIDz CREATE, and one-click syndication using TapVIDz UpLINK. (the systems are integrated so there's no uploading and downloading)
And the TapVIDz UpLINK system allows you to syndicate with pretty much any video platform, social media platform, indexer, WordPress or Tumblr blog API or syndication API like Syndwire.
All you have to do is enter some settings and you're ready to go. Does it work? Here are two pages of Google SERPs proving that my system works. The product mentioned is about ranking, however I used TapVIDz UpLINK to publish and promote the content that made its way to the front page of Google: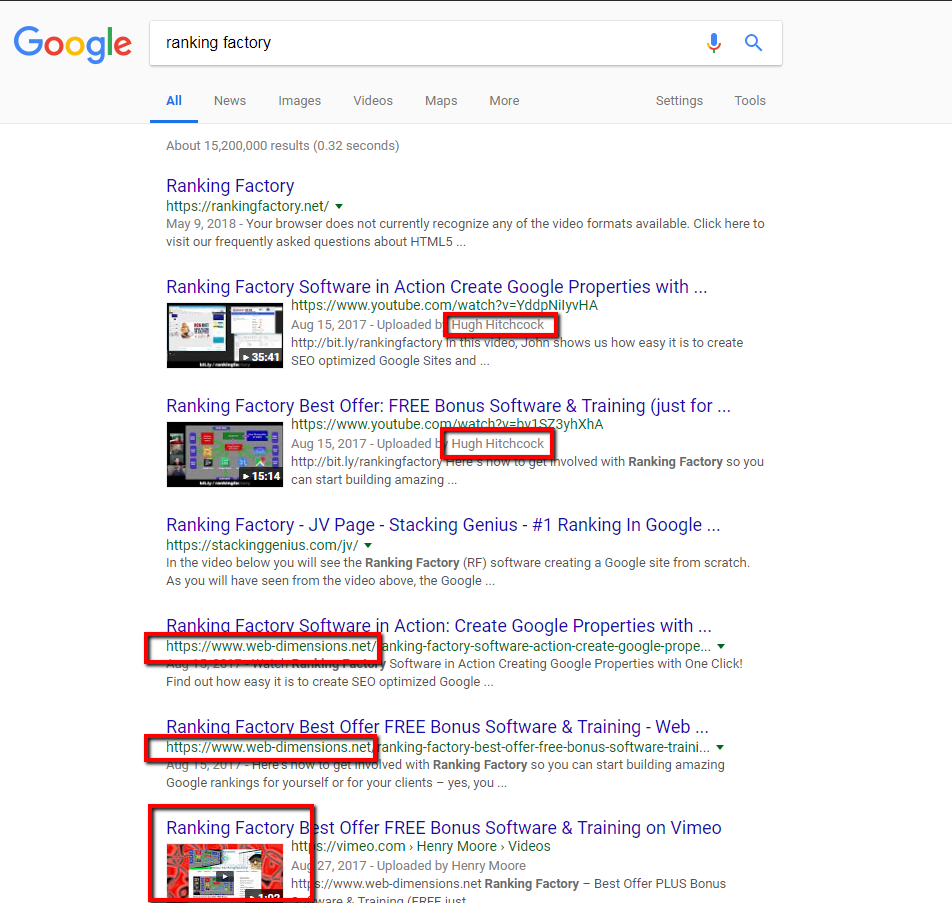 The same thing happened when I started promoting their new offer too: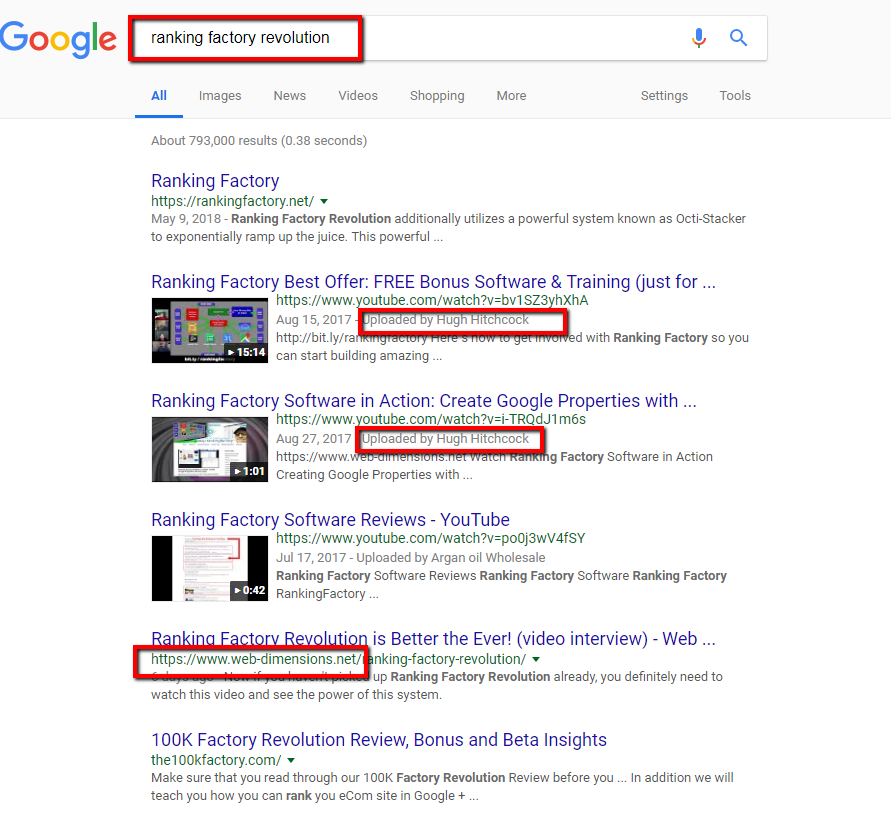 Once you get everything set up, you just upload your video to the system (or choose one already in the system) and TapVIDz / theWorkz foundation uploads, posts, shares, and syndicates your videos for maximum exposure.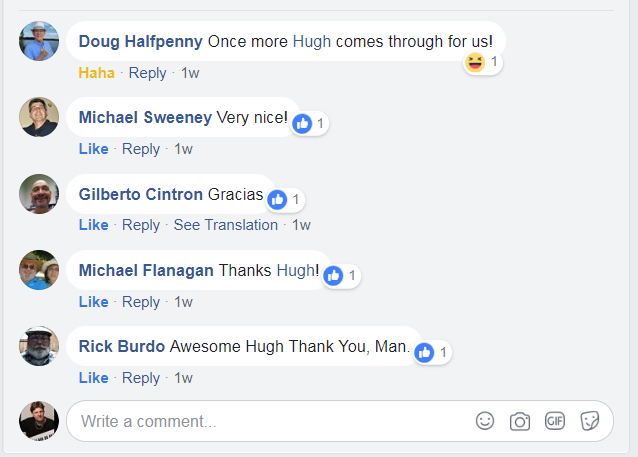 What's more - the TapVIDz ReLOADz system lets you load up any number of videos for automated remixing and uploading on a loose schedule that you set. So it can really put your video marketing on steroids!
We don't recommend using any of these kinds of tools though, without knowing what you're doing - they're very powerful. What's recommended is a well-rounded marketing approach to any business that goes beyond just using some software.
That's why Hugh presents weekly live calls via GoToWebinar - to keep you on path to what's working today, what's NOT working today - and what's even more important - what can get you in trouble.
Hugh has been giving these live calls for members for years - literally six years. "I've only missed about 4 calls in all the three years, and we have a great group - it's my favorite time of the week, and I'd love to have you be a part of it!" All the live calls are recorded and archived for your perusal whenever convenient.
So your going to receive the live calls as well as our exclusive, private Facebook group where Hugh provides ongoing support.
As a special bonus we are also throwing in Webinar Alpha, which is our cloud-based webinar-on-demand system that's works very nicely to get you new leads and sales.
"I still support my Adobe Air products like Viral Image Curator Pro, Viral Video Curator Pro and ICC Express, but a lot of my customers already have those. This offer I'm presenting today, includes all that stuff but especially of interest are my newer, cloud-based tools."
Here's what you get:
USM University - Personal
Weekly live calls with Hugh
TheWorkz Foundation System (one login for all the software)
Twitworkz Personal Edition (5 accounts)
TapVIDz CREATE - Unlimited renders under 20 mins video
TapVIDz UpLINK Personal (5 Accounts)
TapVIDz ReLOADz Personal (5 Accounts)
TapVIDz PLAYAZ Unlimited (coming soon)
Blogworkz
Pinworkz (coming soon)
Webinar Alpha (webinars on demand)
Vidworkz 3 (plus v4 when it's released)
All my previous software
All my upcoming software
Weekly live calls & Recordings
Tons of archived video training
All this for very low monthly subscription Join Now
You now an opportunity to get all Web Dimenions software, training and community at one low price -- a price you can easily handle and won't be a burden to you - and will never go up, while the products continue to get better and better.
And there's no risk, because if it turns out not to be for you, you can cancel at any time.
"And to make this even a better deal: I also promise to give you any other cloud based products that I produce, as long as you remain a member! In a way this means less money for me, because you won't be buying the products when I launch them! but by setting this very reasonable, easy fixed pricing for you, I guarantee you'll be able to stick with me and really get value from this membership!"
So this is the classic good trade setup - very low risk and UNLIMITED possible returns. If I were you, I'd jump on it!
All Rights Reserved ©2018
Web Dimensions, Inc. - Incorporated in the State of Florida, USA since 2002