If you're doing any kind of marketing online where you need to sell something, then you're probably going to be looking for the best shopping cart software or funnel building platform.
Of course you've heard of ClickFunnels and all the others. I'm here to tell you that I've found the best platform hands down for selling your stuff – and it's called Thrivecart.
If you do decide this is something for you, please note that I am offering a comprehensive, 36-part video and audio training series on the Thrivecart platform as my thanks (see below for the full video title list). This complete series offers a full basic training on the platform plus an advanced modules for things like setting up some awesome monetization features like print on demand products and so forth. But I'm getting ahead of myself 🙂

– Hugh
What's so Great About ThriveCart?
Thrivecart is amazing in the way that it allows you to create as many products as you want – each one with multiple pricing options as well as a lot of other integrations that you can use – or not if you don't use them.
To get the promotional view of all Thrivecart's features, click here.
Personally I use Thrivecart to sell my own products in both the software and internet marketing niche and also several music niches via Thrivecart's integration with my Paypal and my merchant account that I have with Authorize.net.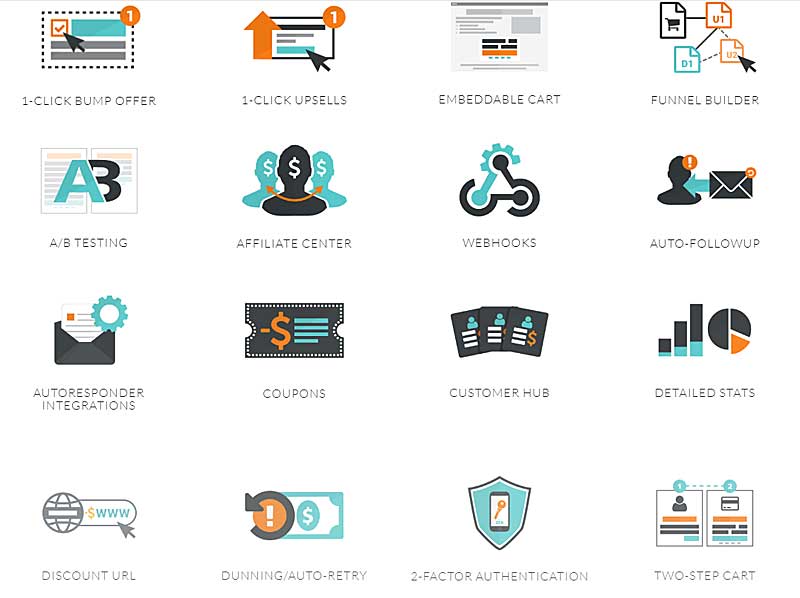 ThriveCart is Best for Your Customers, Too!
Thrivecart has one of the best customer-centric platforms. What I mean by that is that your customer receives a professional looking invoice with links to their "customer hub". Inside the customer hub the user can access products, change payment options and even manage their subscriptions in case you sell a monthly or yearly product.
"Dunning" Features
On top of that – if your customer fails a payment, you can have Thrivecart send them a "dunning" email asking them "what's up with the non-payment?" and giving them instructions to take care of the matter in a very professional way. There is also a way to freeze a user's subscription and then resume later.
Member Sites
Thrivecart has a wonderful integration with member site APIs – you can set it up so that all new customers to the appropriate member site via API integration and emails them their login credentials, then forwards them to the member area after purchase if you like. Or any other thank you page, for that matter.
Email Integration
Thrivecart is fantastic with ESP's, CRMs or email marketing companies. Using their integrations I've set up Thrivecart to automatically add my new customers to my email lists using the web hooks. Then I implement email automations for hands free followups to my customers. In fact I even have php scripts generating and emailing licenses to customers triggered by the Thrivecart purchase process. You'll probably just integrate with an email service.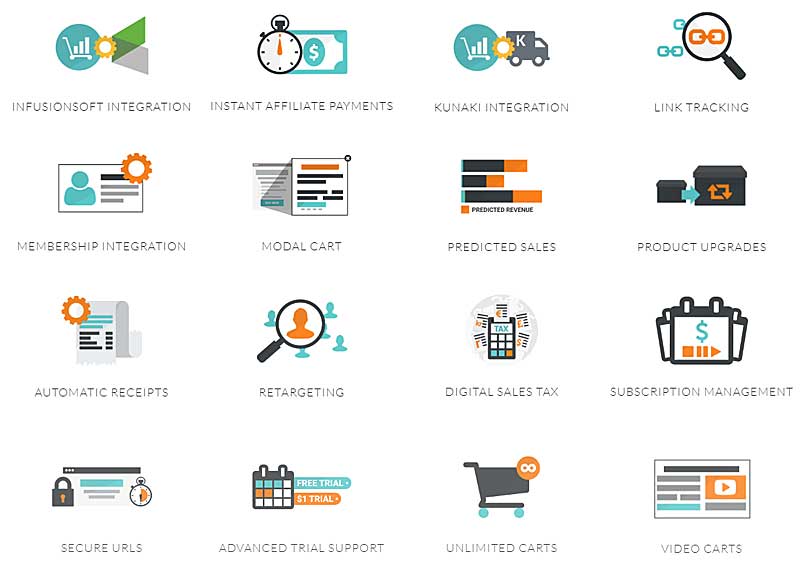 Thrivecart integrates with a lot of email providers – I used Infusionsoft for years before switching to my current provider, and Thrivecart works hand in hand with Infusionsoft – adding your customers to the contact list, registering the product and the purchase in your e-commerce section and triggering appropriate email campaigns.
I recently switched away from Infusionsoft to another email service which wasn't directly integrated with Thrivecart by formal API. But just by copying and pasting the html form from my email provider into Thrivecart, my customers are added to my email account on purchases without fail. "Like Butter" as Mike Myers would say!
These are just the ways that I use Thrivecart – I'm sure you'll have your own needs and your own implementation.
ThriveCart Vs. Other Platforms
Just so you know – I tried almost all the others – ClickFunnels, JVZoo, WarriorPlus, Paydotcom, Nanacast and many more. And to be honest, new cart solutions keep popping up every other month or so. But at some point you have to just pick one and implement it and start making money.
One Time Payment – For Now! Act Quickly!
I say that Thrivecart is the best one to choose, if you act now – because they have a "lifetime" or one-payment deal that gets you all the bells and whistles and you never have to pay for it again and it's way less than a grand.
If you pick up Thrivecart through my link I am going to provide you two sets of basic and advanced training videos (over 30 training videos) for Thrivecart and provide you my own support just to let you know how much I stand by Thrivecart.
Please click here if you would like to take advantage of my offer for Thrivecart so you can get my basic and advanced Thrivecart bonus video training and also my special support.
It's a one payment offer for lifetime access. Act now before they switch to a stupid monthly payment* like some of the other providers! https://aaa-1.com/thrivecart
No Fees – No Spamming Your Customers
And in addition to never having to pay for your software again you'll also find that there are no fees associated with Thrivecart so once you get your account, all the money coming in is YOURS. Plus – Thrivecart does NOT mail your leads like some of the platforms I mentioned above.
Generally, if you're not paying some ridiculous fee like $97 a month or more, the platform is going to be competing with you, mailing the same leads that you bring in with their "Product of the day". Not so with Thrivecart – you have complete income and complete control over what happens to your customers after you on board them. It's all private business and that's a requirement for how I do business.
Get This Amazing Bonus with ThriveCart
So if you're on the fence about Thrivecart – don't be! It is a great investment, you will not be sorry. Grab the chance to get Thrivecart for this one time offer. And get it through me so you can get your hands on the training I'm offering as a bonus! Here's a peek at the close to 40 videos that you get in my two-part video bonus course:
Thrivecart Basic Training
Overview
Pricing Breakdown
Vendor Platform and Profile
Affiliate Platform and Prrofile
Thrivecart Affiliate Program
Access to the Affiliate Program
Account Wide Settings
Blacklisting customers
Compliance Settings
Integrations – Payment Gateways
Integrations – Autoresponders
Integrations – Memberships
Integrations – Fulfillment
Integrations – Zapier
Creating Products Comprehensive
Customer Experience
Customer Research
Setting Products Up for Affiliates
Thrivecart Advanced Training
overview
Upsells
Sales Funnels
Downsells
Coupons
Split Tests
Subscriptions
Affiliates
Partners
Print On Demand Integration
POD – Kunaki.com
POD – Printful
POD – Lulu.com
4 Live Examples
That's a partial listing of the content of the two complete video courses I'm going to be sending you about Thrivecart if you join under me.
So go ahead – take the plunge – get Thrivecart today and my bonuses! You'll be very happy you did! I stand by it 100%
*As of Tuesday May 28th 2019 they are still hovering at a one-time payment but I received notice today that payment options will be changing at the end of this month with some price rise, so now's the time to get in on the ground floor.

Sincerely,
Hugh [CEO Web Dimensions, Inc.]