Crypto Underworld is going to be going out of the launch phase really soon —
you know what that means – the prce will go up about tenfold and become a recurring charge.
So NOW is the time to get the entire funnel for half off. Read on for why you should get it —
I bought this myself, FOR myself because I don't want to be left behind ?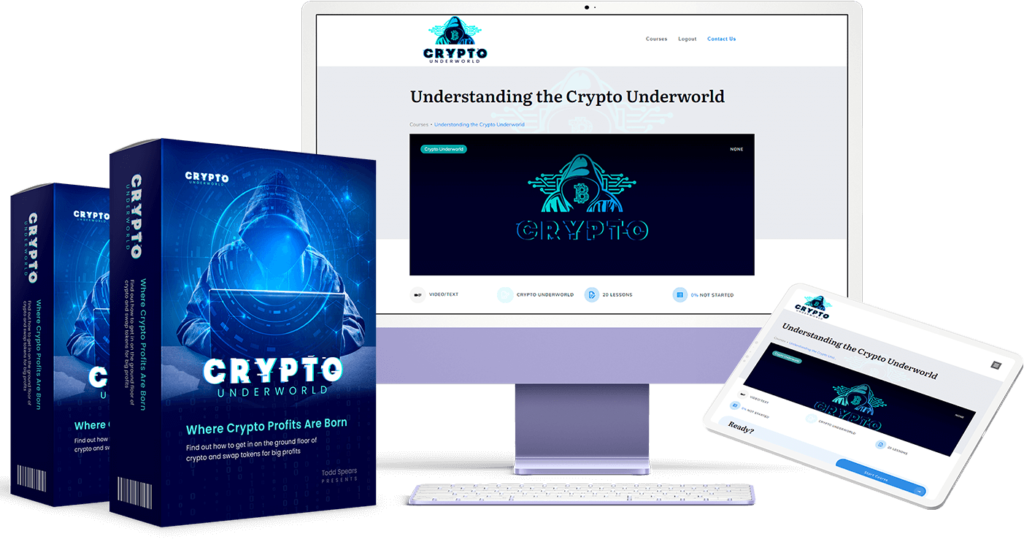 You can go through the entire funnel and buy each piece (see below) one by one and pay full price, or get the entire bundle for less than half of that.
If you're already a crypto magnate, then obviously you don't need this.
But if you're like me – you want to stay in your comfort zone – but you also want to create income online — and
keep up with curve — you should get this.
(unless you already have something that's kickin' it, so to speak — well, then good on you.)
You simply can't expect things to stay 2012 or whatever in terms of online business – you need to move forward. Stay ahead of the curve.
Personally, I am dragging myself kicking and screaming into the world of crypto.
At first, I didn't even understand how to buy or sell with Bitcoin but about a year ago I finally "busted my nut" (lol ?) —
when I learned that it's basically just a hash or string like "anfkdlui3440vue9dfv" (just an example) that you copy and paste —
and that passes the monetary value from this address to that address.
And the address is your account on Coinbase or whatever.
This is going to be coming to your bank soon, and everywhere – mark my words.
So now is the time to learn this stuff. ALSO – while you're learning –
why not learn to get rich at the same time!
To be honest, it's really so frakkin' simple 😉 but it's very intimidating to get started, if you haven't yet — and maybe even if you have!
The way to crypto dominance is not just by putting money into Bitcoin or Ethereum – although that's a start.
Where it's really at is to be able to get in on new "alt coin" startups whose cost is fractionally infinitesimal.
For example, I bought 3 million units of a crypto last week for about eighty buks, I think the price was like 00.0000044. If that even reaches one penny I will be very wealthy.
If you look around, you will see people executing this same strategy and actually geting very wealthy doing it.
There are also some coins coming up that are just really good investments, like they are based on Gold, which is more than I can say for some currencies. There are so many things going on to be aware of.
So it's just a matter of putting a little here and a little there, with some just slightly more than random intuition –
Which you can usually just get from someone else. In this case, I highly recommend Todd Spears.
I have known Todd for eight years and he's a thoroughly stand-up guy.
He's also a great software developer, the brains behind Spyder Spanker and Project Supremacy, to name a few.
Todd has assembled what I think is the greatest set of resources for achieving Crypto dominance –
And now that I have purchased it myself and been inside, I can tell you it is a stupendous bundle which I am going to enjoy and take advantage of for at least the next year.
Because with this bundle, which Todd is offering for a very limited time at less than half-price, you get all of the following:
The Crypto Underworld Step-By-Step Video Training
(This isn't going to take you days or weeks to go through – I've kept the training simple and to the point so you can jump into the action… TODAY)
Inside, you'll discover:
How to buy crypto from the DeFi markets even if you've never made a trade in your life and you're just starting out
The right way to use MetaMask Wallet
How to use the Binance Smart Chain Wallet
How to use Trust Wallet(mobile only) on a PC
The simple, safe, and secure way to transfer funds to those wallets in minutes
The power of the 'Pancake Swap' and how Todd uses it to get tokens before they go to the big exchanges
How to find new tokens going live so you can get in on the presell for massive profits from day one
The simple method for knowing if a trade is likely to be profitable before you complete the trade
How to vet new tokens, avoid scams, and maximize your profits
The secret formula for finding tokens that have the potential to 'go to the moon' one day (It's always smart to hold a few of these)
The Crypto Underworld Cheat Sheet
This cheat sheet shows how to quickly jump right into the action and get FAST results with The Crypto Underworld. It's also a great refresher if you want to revisit my simple method as you're making trades.
The Crypto Underworld Resource Guide
This Resource Guide will save you time by giving you access to the various trading resources Todd uses all in one place — and most of these resources are free.
You also get training that shows you how to use each of the resources included.
OTO1: STAKING AND YIELD FARMING
This upgrade reveals how Todd uses two additional underground crypto methods, staking and yield farming, to make hands-free profits and get additional reward tokens with minimal time and effort required. This builds upon the core training inside The Crypto Underworld and is intended to help students increase their profits quickly and easily.
OTO2: HACK
Slippage on PancakeSwap is a big issue that can really eat into profit. Many swaps end up with slippage of up to 15%, but Todd has discovered a powerful hack that limits PancakeSwap slippage to as low as 1% which will save the user hundreds or even thousands of dollars over time.
OTO3: Mastermind, Ongoing video updates, case study and APE TOOLS SOFTWARE
This is a must-have upgrade for anyone serious about getting the best results possible with The Crypto Underworld. This upgrade includes access to our exclusive Telegram mastermind + webinars, training additions and future updates, and a powerful ALERTS software that will save time and boost results.
btw – I have seen the software and it is absolutely top-notch – for keeping track of your crypto empire. Nothing less to be expected from Todd! -Hugh
OTO4: DFY Crypto TRADING VPS setup
This is just a Windows Server in the Cloud that YOU own! You log in by Remote Desktop and you can do any kind of trading or marketing with your own Windows Server- for a full year! Already set up for you!
Todd's team had this set up for me within 24 hours and I was able to log right in a get started – AMAZING!
It's important to have something like this, so you can securely automate trades for crypto profits around the clock!
But I want to give you all the links so you can make your own decision.
Like I said, I picked up the bundle which includes the VPS trading server for a full year.
By the end of the year I will have made way more profits in crypto than I am even making now with my paltry investments (that are doing great, by the way)
Yes, crypto goes up and crypto goes down – that's part of a healthy market – people buy and then they sell and then they buy again. It's a never ending cycle.
So with Todd's help I will be getting in on lots of infinitesimally inexpensive coins, any one of which could shoot up to the moon. It's just about keeping your investments very small, knowing which to get on and then waiting.
It's simple and fun and profitable but there are a few things to learn and I'm happy to let Todd help me sidestep some of the "gotchas" that I would be encountering by just going it alone.
So check out Crypto Underworld using one of the links above, and I'm more than happy to assist if you have any questions or require further information. Just get in touch.
To your success,
Hugh