Hello dear reader,

I'm about halfway through the training in Untapped Traffic right now, so I can give you a good look inside of what it's all about.

From here it might look like blind ad copy (promising a great result without much explanation) but now I can break it down for you (happy to do so.)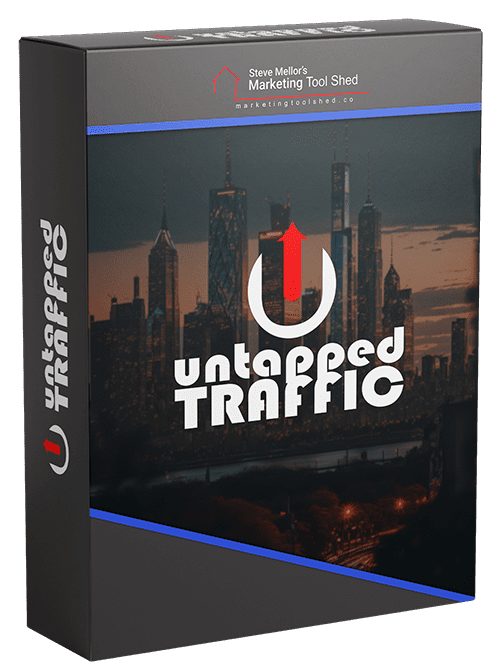 Steve Mellor is a photographer who works with a lot of models. When one of his models joined OnlyFans, all her "conventional" ad accounts got banned for you know why.

So Steve, being also an inquisitive internet marketer, started "probing" asitwere other ways to get traffic (lol no pun intended.)

On the one hand he was looking for a media buy that would allow adult traffic. On the other hand, he was looking for a way to get real traffic from real people. And the other requirement was that they weren't going to frown on affiliate marketing.

Steve ended up hitting a goldmine of traffic when he found tons of ways to get around the standard FB and Ggl bans. He outlines it all in this course.

It's not just about adult traffic although some of the websites he uncovers are portals where you can place media buys that include both adult and non-adult requirements. AND they allow pretty much unrestricted affiliate marketing

Part of the training is a list of ten of these websites and Steve goes over all the subtleties of how to utilize the different sites.

And these sites have nothing to do with any type of adult material, they are just portals for buying advertising. And you can filter who/what you want to advertise to so you have total control. 

He uncovers three basic media types of advertising that work along with the four market sectors to take advantage of.

He explains why they work, what the best strategy is overall, plus several individual strategies for each of the three types.

I'm kind of sold on this idea, I'm going to finish the training today and start implementing some of the ideas which can all be done at a very low cost.

Because traffic is traffic – and I can use all I can get.

Web Dimensions has multiple ways of consuming and monetizing traffic, including opt-in pages, sales pages and content on blogs.

I assume you have something like that but if you need help setting it up or implementing it, please reach out because I can help you with that. I'll be happy to have a live webinar where I outline all the ways I have set up to consume traffic if I get enough response.

I'm telling you this because I understand you might not be ready to jump in yet since I don't have results yet from this particular set of strategies (although Steve does – see his website here)

If you stay tuned to my emails I will report back in a couple of weeks the results that I get. I'm not that interested in advertising on adult sites, but what I'm interested in – after going through a lot of the training already – is using some media types to grow awareness of my brand, and other media types to send people to not only my OWN sales pages, but also sending them straight to my affiliate links.

Yup that's right – the majority of these advertisers don't give a hoot whether it's an affiliate link on any platform. Imagine that!

Ok I'll sign off for now – I'll report back later with some results. Thanks for reading 🙂 Much love,

Hugh
Web Dimensions, Inc.